Welcome to Purposeful living today. Our mission on this blog is to inspire you through the word of God and by the power of the Holy Spirit to discover and fulfill your purpose on earth with the gifts and abilities of God in you.
Our vision is to see people live a fulfilled and balanced life in all areas of life only in Christ Jesus.
Join us in making our mission and vision a reality by sharing this gospel of love and purpose to your friends on your social media platforms. Thank you and God bless you. We love and celebrate you.
We continue from
our last post on how to overcome sexual temptations
.In our last post we looked at two ways on how to overcome sexual immorality. Today we will be concluding this series by looking at three (3) other ways I believe can help us overcome sexual temptation. kindly share your tips on how you overcame sexual temptation in the comment section.
Keep thy heart with all diligence; for out of it are the issues of life. (Proverbs 4:23)
3. Guard your heart:
Guarding your heart is your responsibility to do.
You do this through the word of God using it as a mirror for your life. You guard the things you hear, see, how you feel, how people make you feel, where you go and what you watch.
King David did not guard his heart when he saw the beautiful Bathsheba, he could have said "no" to the temptation but he didn't, he yielded to it. How do we know he yielded? He began to make enquires about her –
he was feeding his lust
. When he got the information he needed he didn't even think about what the effect of what he was about to do will negatively affect his life and generation.
He ordered his guards to get her for him, when she came in, he had sex with her
. He was consumed by
lust
which engineered him falling into the sin of sexual immorality. Just that act; with one woman, in one day alter his destiny, that of his generation and the nation he was leading .
Read Also: How she began to have affair with guy in church
He paid in fourfold — the son from the immoral act died, his daughter Tamar was raped by her half-brother and David's son, Amnon was then murdered by Tamar's brother, Absalom. David was ultimately betrayed by a son he loves, Absalom. Who staged cup d'état which led to civil war in the nation of Israel, raped his father concubines, and forces David exile from Jerusalem. Absalom died in the process and even after the death of David, he also lost his son Adonijah who was murdered in the battle for succession.
We can overcome temptations if we choose to guard our hearts
not by our emotions but through the instrumentality of God's word.
4. The fear of God: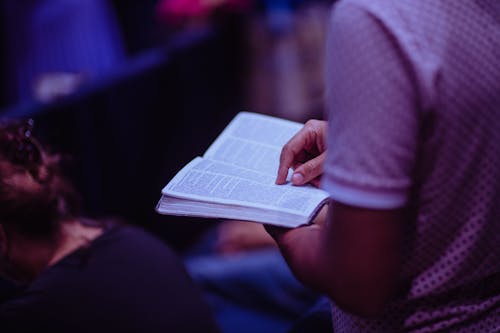 The fear of the Lord is the beginning of wisdom, and the knowledge of the Holy One is insight. (

Proverbs 9:10

)
The fear of God is your reverence for God. Your reverence for God will make not to fall into the sin sexual immorality.
F
earing God is a positive rather than a negative thing. For example in
Genesis 42:18, Joseph wins his brothers' trust when he declares he is a God-fearing man. It was because the midwives feared God that they obeyed him instead of the authorities by sparing the Hebrew babies (
Exodus 1:17). Pharaoh brought disaster on his nation because he did not fear God (Exodus 9:29-31).
This was what made Joseph not to sin against God by sleeping with Potiphar's wife. "There is none greater in this house than I; neither hath he kept back anything from me but thee, because thou art his wife: how then can I do this great wickedness, and sin against God?"- (Gen 39:9).
Read Also: How to win a man's heart and make him commit to you.
5. Walk in the Spirit:
If we live in the Spirit, let us also walk in the Spirit. (Galatians 5:25).
You can overcome any sexual temptation when you are led by the Holy Spirit. Let's say you are planning to go and see our friend and as you are preparing the Holy Spirit tells you, my daughter there is danger ahead, don't go.
This word will keep you from the danger which could be you being tempted to sin against God. Always fellowship with God,
study and meditate on the word of God
, always pray in the Spirit and allow the Holy Spirit work on you. If you have any sin in you tell him to help you overcome it.
Read also : The value of mystery
I pray that the lord will help us overcome every sexual temptation as we walk by the principle of His word and depend on the power of the Holy Spirit to empower us to live in sexual purity because its not by power nor by might but by the Spirit.
Have you been in a tight corner where you were sexually tempted, how did you overcome? Your story will inspire someone reading this article, kindly share on the comment box or send a mail to fulfillpurposeblog@gmail.com. God bless you.
If you have not given your life to Christ; only Him can empower you to overcome sexual temptation, you can please say this prayer:
Lord Jesus Christ I acknowledge that I am a sinner, I believe in your death and resurrection. I ask you to forgive me my sins, I reject the devil and all his works and l welcome the Holy Spirit into my life. I declare today I am born again and I am a child of God in Jesus name. Amen.
If you just said that prayer I welcome you to God's family. Look for a Bible believing church where God's word is taught and fellowship there.
If you made this decision please send a mail to fulfillpurposeblog@gmail.com
YOU ARE GREATLY LOVED AND HIGHLY BLESSED.
IT IS ALL ABOUT JESUS CHRIST.